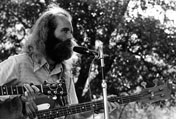 My intent is to try to say something useful about eclectic music.

Making private 1960s and 70s recordings public
Hawaiian Music
Spiritual Music Not Often Heard In Churches
Carlos' Guide to KayBuena.com
Notes postings about music
Someone Who Used to Look Like Me

+1.512.788.5254
sauer@Technologists.com
https://Technologists.com/~sauer/
Roe is gone, one more round
June 28, 2022
"just as good as Caruso" – props for Kim Wilson & Charlie McCoy
May 5, 2022
Mel West, engaging people to help people in Nicaragua
April 25, 2022
Glimpses from the Vulcan, 1969-70
February 14, 2022
[koko] MISP 2022
Janary 10, 2022
Why I continue to serve — I remember Nicaragua
December 13, 2021
Making private 1960s and 70s recordings public
August 21, 2021
Jimmie Vaughan set w/ Storm track I recorded
August 4, 2021
Celebrate Ramblin' Jack Elliott's 90th 91st birthday!
August 1, 2021
[koko] LP digitizing milestone approaching
May 18, 2021
remembering Denny Freeman
April 28, 2021
[koko] Dell Unix sustainable!
January 19, 2021
Computer Systems Performance Modeling
August 25, 2020
Remembering RESQ
August 25, 2020
[koko] (welcome to …) eight Jurassic O.S. on 1992 Dell 486D/50
September 26, 2019
[koko] reviving timbl's WorldWideWeb browser
July 1, 2019
[koko] exploring NEXTSTEP 486
July 1, 2019
1992 JAWS demo for Stewart Cheifet
May 17, 2019
Let's start at the very beginning... 801, ROMP, RT/PC, AIX versions
March 8, 2017
Mainstream Videoconferencing available again
February 14, 2008
A brief history of Dell UNIX
January 10, 2008