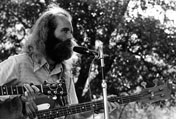 Hawaiian Music
Dancing Cat Records Hawaiian Slack Key Book
"Ki ho`alu, which literally means "loosen the key," is the Hawaiian-language name for this unique finger-picked style."
Big man's music lives on
Iz's fans not alone in world
Israel Kamakawiwo`ole: The Voice Of Hawaii
Tribute to "Bruddah Iz"
"Kamakawiwo`ole recorded three songs that night ... "Over the Rainbow/What a Wonderful World." It's the last song -- a snapshot of the artist at his gentle, poignant best -- that has come to redefine the way the world listens to Hawai`i and to elevate Kamakawiwo`ole to unprecedented success some five years after his death."
Somewhere Over The Rainbow
E Ala E
Hawai`i 78
Ledward Kaapana (Dancing Cat archived):
"Perhaps most importantly, Led blends his virtuosity with an infectious joy for performing, a generous spirit and a kolohe (rascally) sense of humor." (Led Dancing Cat current)
LedKaapana.com
July 5, 2017: Kennedy Center Millenium Stage
June 24, 2011: 2011 NEA National Heritage Fellow
Led Kaapana and Konabob at Pahala Workshop '06
A Prairie Home Companion January 5, 2002
A Prairie Home Companion October 12, 2002
Vintage Hawaiian Music -- The Great Singers: 1928-34
If I could own only one Hawaiian CD, this might be the one. It had been very hard to find, apparently due to a distributor bankruptcy, but now seems to be available again.
Kalama's Quartet
"The Kalama's Quartet was what Hawaiian music was supposed to sound like, falsetto, tenor and bass voices singing in harmony, punchy guitar and uke with two steel guitars weaving musical leis for the ears."
Lei E Hula
Biography by Craig Harris
Sol Hoopii - Master of the Hawaiian Steel Guitar (Rounder 5672)
"Sol Hoopii's music is where traditional Hawaiian music meets American jazz."
Hula Blues
Chimes
Dennis Pavao
"formed the legendary Island trio, Hui Ohana, along with his cousins, Nedward and Ledward Kaapana, and he was instrumental in the renewed popularity of the male falsetto voice (known in Hawai`i as "ka leo ki`eki`e")."
ki ho`alu - That's Slack Key Guitar (DVD)
"The story is told not by a narrator, but by each musician telling their story in their own words ..."
Roe is gone, one more round
June 28, 2022
"just as good as Caruso" – props for Kim Wilson & Charlie McCoy
May 5, 2022
Mel West, engaging people to help people in Nicaragua
April 25, 2022
Glimpses from the Vulcan, 1969-70
February 14, 2022
[koko] MISP 2022
Janary 10, 2022
Why I continue to serve — I remember Nicaragua
December 13, 2021
Making private 1960s and 70s recordings public
August 21, 2021
Jimmie Vaughan set w/ Storm track I recorded
August 4, 2021
Celebrate Ramblin' Jack Elliott's 90th 91st birthday!
August 1, 2021
[koko] LP digitizing milestone approaching
May 18, 2021
remembering Denny Freeman
April 28, 2021
[koko] Dell Unix sustainable!
January 19, 2021
Computer Systems Performance Modeling
August 25, 2020
Remembering RESQ
August 25, 2020
[koko] (welcome to …) eight Jurassic O.S. on 1992 Dell 486D/50
September 26, 2019
[koko] reviving timbl's WorldWideWeb browser
July 1, 2019
[koko] exploring NEXTSTEP 486
July 1, 2019
1992 JAWS demo for Stewart Cheifet
May 17, 2019
Let's start at the very beginning... 801, ROMP, RT/PC, AIX versions
March 8, 2017
Mainstream Videoconferencing available again
February 14, 2008
A brief history of Dell UNIX
January 10, 2008