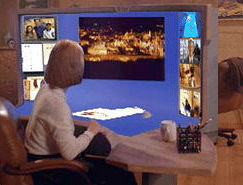 by Joe Duran and Charlie Sauer
ISBN 0-201-84747-7 * Paperback * 368 pages * 1997

This document contains a Book Description and the Table of Contents.

You can also access: Preface, Cover (267K), Chapter 1, or
Appendix II (Web Resources).
---
"Videoconferencing is the technology that transcends geographical boundaries, becoming the foundation for global businesses!"
By joining the power of the networked computer to the telephone and adding video, the complete revolution in communications is realized. Mainstream Videoconferencing will answer the basic questions associated with the world of video conferencing from the basic cost of technology to the technical elements of a video conferencing system. As a high-level introduction and overview this book covers topics of critical strategic importance for the future of global communications. There are three main sections to this book: section 1 is an extensive overview of videoconference in the present and its planned use; section 2 discusses the technology in depth; and section 3 gives the authors' view of the future of videoconference capability and useage. Video conferencing is the technology that truly transcends geographical boundaries that exist today, and will become a foundation for the global enterprises of the future.
Mainstream Videoconferencing:
introduces the market and technological realities of video conferencing
answers basic questions associated with cost of the technology, technical elements, technical implementations procedures and requirements
includes examples of employed video conferencing systems
describes how videoconferencing will become mainstream and pervasive
presents desktop videoconferencing providing communication capabilities at a cost effective approach
Joe Duran, Joe W. Duran, co-founder of VTEL Corporation, began work on developing videoconferencing technology for the IBM PC platform as far back as 1984. A pioneer in multimedia communication, he has led the development of some of the videoconferencing industry's most advanced and innovative products. In addition to his multimedia work, his previous research and publications have ranged from computer graphics and computer architecture to artificial intelligence and software engineering. Dr. Duran currently serves as Multimedia Strategy and Planning Coordinator at Motorola's Microprocessor and Memory Technologies Group. He received a B.S. in physics from Southern Methodist University and a Ph.D. in computer sciences from the University of Texas at Austin.
Charles H. Sauer, Chief Technical Officer and Senior Vice President of Development at world.hire Interactive Career Solutions, was Chief Technical Officer and Vice President of advanced development at VTEL Corporation, where he was responsible for developing software and technology for videoconferencing, both for group and desktop environments. Dr. Sauer was a Vice President of the International Multimedia Teleconferencing Consortium, and chaired the IMTC Technical Steering Committee. Prior to joining VTEL, he had been with Dell Computer as Vice President of software and technology. During his four years with Dell, he was responsible for strategic technical relationships with major industry partners such as Intel, Microsoft, Novell and Sun Microsystems. He led joint Dell/Intel development of "JAWS" local bus graphics systems, the primary precursor to local bus implementations in PC systems, Dell development of Unix SVR4, Dell development of RAID disk subsystems, and was instrumental in the formation of the Business Applications Performance Corporation (BAPCo). Dr. Sauer began a 14 year career at IBM at the Thomas J. Watson Research Center, where he co-authored several books on performance modeling, Elements of Practial Performance Modeling, Simulation of Computer Communication Systems, and Computer Systems Performance Modeling and developed the pioneering simulation package, RESQ. Later with IBM, he was lead architect for AIX on RS/6000 and "AIX Family" (RT/PC, PS/2, System/370). Dr. Sauer received his B.A. in mathematics and Ph.D. in computer sciences from the University of Texas at Austin.
---
Go to: Book Specs, Book Description, Table of Contents, Preface, Cover (267K), Chapter 1, or
Appendix II (Web Resources).
---
Preface
1. WHY WE'RE HERE
Visions, Metaphors, Expectations, Realities * Benefits, Limits, Growth * Technology Bottlenecks & Bumps in the Road * Representative System Characteristics * Applications * The Future
2. WHERE WE CAME FROM
Telephony * Television * NEC, CLI, PictureTel, VTEL, Intel, ... * Role of Computing * Role of Standards
3. STARTING ON THE DESKTOP
Establishing Contact * Do You Hear Me? * Can You See Me? * My Computer Will Get Back to You
4. ROOMS WITH A VIEW
Stretching the Conference Table * "Multimedia" * Computers
5. ALL TOGETHER NOW
Three is Not a Crowd * Audio Independence * Video Control * Harder Stuff * Getting Connected
6. FINISHING THE PICTURE
Everyday Meetings * Employment Recruiting * Legal * Product Technical Assistance * Manufacturing * Kiosks * Trading Floor * Classrooms * Clinics * Entertainment
7. ANALOG, DIGITAL, AND TELEVISION
Analog to Digital to Analog * Analog - Low Cost Terminals, High Cost Transmission * Color Representation * Video cameras
8. COMMUNICATIONS INFRASTRUCTURE
Switched Digital Connections * Practical Considerations with Switched Digital Connections * Other Types of Networks * Specifics of Wide Area Networks * Specifics of Local Area Networks * Satellite * U.S. Regulatory Issues
9. VIDEO
Compression * Video Processing in an H.320 Codec * Video Quality Metrics
10. AUDIO
Compression * Echo Canceling * Some Practical Considerations
11. PUTTING IT TOGETHER WITH MULTIPOINT
General Design Considerations * H.231 * H.243 (& H.242)
12. MULTIPOINT DATA
Sharing Images and Drawings * ITU-T T.120 Recommendations * Distributed Data in Larger Conferences
13. BARRIERS BREAKING DOWN
Fibers and Ropes (connecting systems) * Web Threads * Quilts and Future Fabric * Clearer Pictures * Sounding Better * Free MIPS Meet Free Bauds * Better Than Being There * Main Streams
14. THINGS TO COME
How to Stretch the Table Better * Table Stretching Variations - Break rooms, offices, and halls * Time/Space Quadrants * Internet and Virtual Reality Influences * Revisiting the Meeting Room
APPENDIX I - SUMMARY OF ITU-T STANDARDS
The International Telecommunication Union * Study Group 15 G-Series Recommendations (Audio) * Study Group 15 H-Series Recommendations * Study Group 8 T.12x and T.13x Recommendations
APPENDIX II - WEB RESOURCES
Glossary
Index
---
Go to: Book Specs, Book Description, Table of Contents, Preface, Cover (267K), Chapter 1, or
Appendix II (Web Reources).
---